Start the year off right this week, with tons of things to do in Boystown: RPDR watch parties, byob comedy at Playground Theater, beer & bourbon arcade at Replay, Bey night at Sidetrack, $4 Friday at Cell Block, Harry Potter Trivia at Lark and new dining at Fajita Factory.
And let's reminisce the past year at chicagopride.com with thousands of 2018 photos in their extensive galleries covering Pride Fest, Market Days, Halloween, and more.
Center on Halsted
Center on Halsted is proud to introduce our new free Virtual Reality World Building series for youth between the ages of 13-19 who are interested in learning the tools for an online platform called SineSpace used to create virtual reality.
Optional orientation is January 5th, click image to sign up.
Participants can join one, two or all three courses to gain skills that will prepare them to develop in the virtual reality space. All participants who successfully complete the course(s) will be awarded a certificate!
<
Crosstown Fitness
It's time to get after your 2019 fitness goals! Jump Start your Fitness Journey at CTF for only $99! Email [email protected] to enroll. Offer expires 1/30/19 & available for new clients only.
FFC Boystown
Happy New Year! Have we got a FUN January FFC class ready for you! Join Jenarator with special guest teacher INBOGNITO [Brooke Hunter] as we do the BEST OF 2018 THIS SUNDAY at FFC Boystown! We've got your faves from last year! Tambourine! Level Up! Low! And more!
PLUS–Full day use of facilities: Showers, sauna, equipment and FREE 2-hour PARKING with validation.
Revolucion Mexican Steakhouse
Savor authentic Mexican Steakhouse dishes, from our mouth watering filete Revolucion to carne asadas & more. Join us for a revolutionary experience! Reserve today! 773-661-9893
<
Furious Spoon
BREAKING: A Furious [R]evolution Is Coming!
This is an evolution of our brand led by Chef Shin Thompson. During the next few months, we'll be making changes to elevate Furious Spoon, everything from our service model, our menu and design. The goal is to provide a better overall experience and insight into what it takes to be the best ramen spot in the city.
Fajita Factory
Fajita Factory at 3445 N. Halsted is open! The new Hot Mess Express in Boystown. A worldly take on fajitas, a wide selection of empanadas, and chip dipping options with guacamole bar. Drink menu includes Chili Mango Margaritas, Basil Watermelon Mojitos and Frozen White Peach Sangrias.
Casual and quick counter service with portions to make your head spin!
Drew's On Halsted
Lark
We're bringing you a magical month with Harry Potter Trivia Nights Tuesdaysthroughout January! Test your knowledge of the Wizarding World for a chance to win prizes at Lark.
Prizes will be awarded every week, and $150 in cash Muggle money will go to the team with the highest cumulative score at the end of the month! We'll be serving BOGO 1/2 OFF pizzas and half-priced bottles of wine. Trivia starts Tuesdays at 7 pm!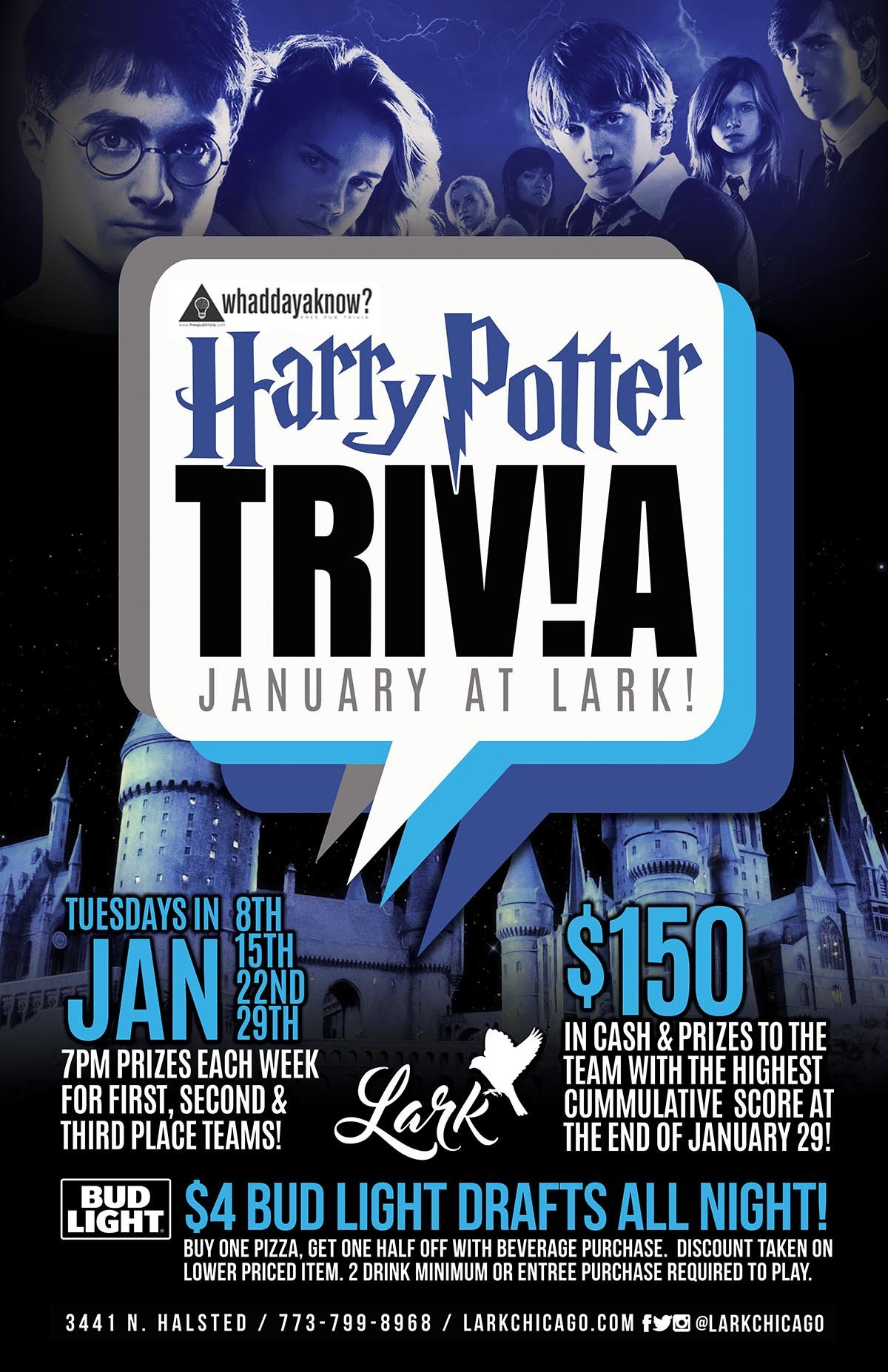 El Mariachi Tequila Bar
The Chicago Diner
Can't decide which burger to order? Order the TRIO BURGER SLIDERS and get 'em all—Buddha's Karma Burger, Cajun Black Bean Burger, and Titanic BLT.
Kit Kat Lounge & Supper Club
Earth's Kitchen Winter Deals
We would like to offer our loyal EK customers some deals this winter. Who doesn't like to save a dollar or two!
Order directly on Earth's Kitchen Website and use promo code EK15… receive 15% off your entire bill.
Dine in with us and pay cash… receive 10% off your entire bill.
Call directly to place a pick up or delivery order receive 10% off… but if you pay in cash receive 15% off. Please mention your method of payment when calling so we can discount accordingly.
(773) 648-6000 chiearthskitchen.com This offer is good until March 2019!
Wood
Every Sunday through Thursday, join us from 5 until 7 for Happy Hour! $18 for our famous double cheeseburger or flatbread with draft beer or selected wine pours!
Yoshi's Cafe
Award winning, eclectic, French-Asian cuisine established in 1982 by Chef Yoshi Katsumura.
Elevate Coffee (formerly Yefseis Cafe)
Yefseis cafe has been the go-to coffee shop in Boystown for almost a decade, now reborn as Elevate Coffee. An updated look and new coffee experience complete with cozy atmosphere, cool music, plenty of outlets, super fast wifi and the best coffee and house made pastries in town. Have a seat & lift your spirits at Elevate Coffee (across from Sidetrack).
D.S. Tequila Co.
It's time to play trivia, FOR YOUR LIFE! Join us for our 3rd annual special edition trivia spectacular Wednesday 01/09 all about RuPaul's Drag Race! All seasons are fair game. Rack up points and tell the other teams to simply sashay away! $100 grand prize.
Salsita
Friendly and fresh, quick service Mexican takeout counter with vegetarian options. New cook to order Bistec Asado (Rib-eye steak) tacos $3.50 ea. lettuce, tomatoes & sour cream.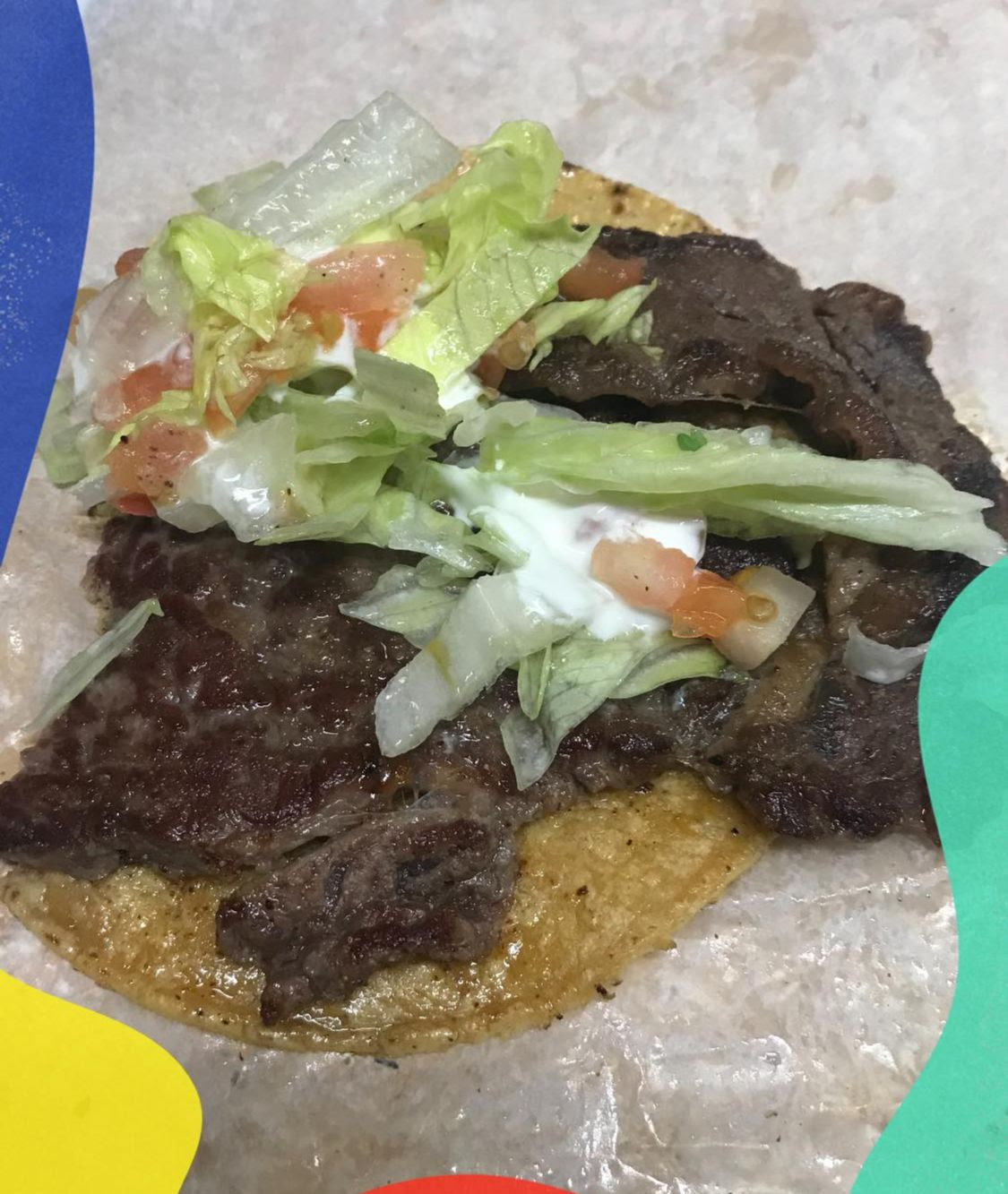 Panino's Pizzeria
Wing Stop
Whole Foods Market
How to kick off the new year after all that partying? It starts with a "B" and rhymes with lunch.
Boystown Pride
Check out the new Boystown Pride Tote Bag. $16 Only in-store at Men's Room Chicago and NoteworthyNotes, quantities limited.
Handmade durable construction from upcycled Chicago Pride Fest and Northalsted Market Days street pole banners. All proceeds benefit the Lakeview Employment Group, a non-profit charity helping at risk youth & adults with employment challenges.
Splash
After that VERY special episode of RPDR last week, we are finally back to the basics with a brand new season of ALL STARS! Every Friday at 7PM, make Splash your destination for all things Drag Race!
Sickening prizes, and guests hosts each week, with hostess with the mostess TRASHLY!! $5 Stoli & $3 Jack Fire from 7-9PM and performances directly after the show! Join us, won't you?
Cell Block
FRIDAY 1/4. Open at 4pm. It's $4.00 FRIDAY!
You name it, and it's just $4.00! ALL BEER $4.00 including bottles, draft, domestic and imports. ALL LIQUOR $4.00 (single shot) including all call brands and even top shelf AND the Windy City Boys Troop will be in for their monthly bar night.
Steamworks Baths
Save $$$ on our Gym Rat packs this month. 20% off Gym Rats to start your NY right and fit! And our Food Drive is extedned through January. Receive $5 off weekday visit! The Lights Out Party is wild – Get in from 4p-4a every Thursdayfor the dark times at Steamworks.
Berlin
Chicago's wildest weekly drag show kicks off 2019 with a bang, Saturday, 1/5with performances by: Monica Beverly Hillz – star of RuPaul's Drag Race, Alexis Bevels – winner of Camp Wannakiki
Bambi Banks-Couleé – Crash Landing All-Star Cleo Pockalips (Armand Fields) – Roscoe's Drag Race winner 2018 Serena Fiierce
GUEST STAR Melee McQueen [Milwaukee, WI] & Malaiya Marvel [Milwaukee, WI] & host Trannika Rex!
Scarlet Bar
Sunday 1/6 is The Takeover, a night dedicated to a different artist and their music. Join us in celebrating the iconic artists who kicked off their careers on the Disney Channel:
Demi Lovato | Miley Cyrus | Nick Jonas | Selena Gomez | Ashley Tisdale | Zendaya | Raven-Symoné | Vanessa Hudgens | Aly & AJ | Circle of Stars & more!
$3 Miller / Coors, $5 Disney Bombs, $5 Jameson, $9 Disney Pitcher. Hosted by Miss Miranda, Venus Carangi & XO. No cover! Drag Performances at 11:30pm!
The North End
Happy New Year!! We have a feeling that 2019 will be the best one yet! Join us for our Daily Specials in January!
Hydrate Nightclub
Music starts from within one's heart, it doesn't move everyone the same way.
Born and raised in Houston, Joe Ross has been behind the mixing tables for overs 15 years. He has a special place in his heart for pop vocals, known for delivering high energy circuit and house sounds.
Joe has been noted "Best DJ" 7 years in a row by Outsmart Magazine. Joe has been a Billboard reporter since 2015 and holds a residency at Rich's Nightclub in Houston, Texas.
Sidetrack
Drink the LEMONADE at All Things Beyoncé Wednesday 1/9, at Chicago's monthly Queen Bey Party! Dance to Beyoncé videos and concert footage, plus SLAY to drag performances from DiDa Ritz, Saya Naomi & Khloe Park!
YOU are invited to get on stage, show us your moves and win Fun Prizes in our All Things Bey Contest. Dance, sing, LipSync – no drag required. Hosted by Michele Williams Fan Club President Dixie Lynn Cartwright. No cover…it's Sidetrack!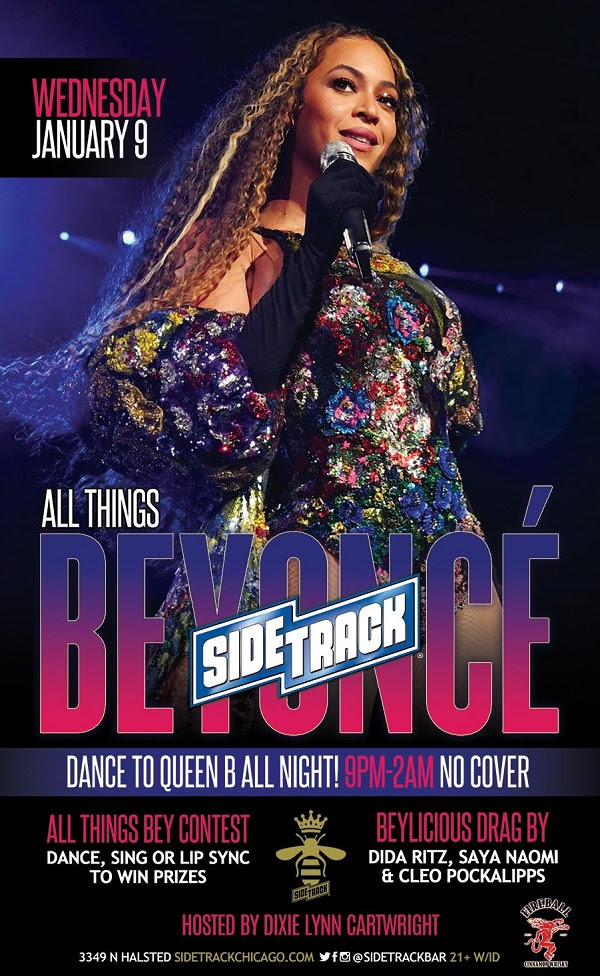 Progress Bar
Join us for this month's FLOW Wednesday 1/9, the Hottest New Party on Halsted Street featuring the sick beats of Dj X-tasy and this month's special guest Fernando Wong!
Each Month, FLOW features all the latest and hottest Reggae, Reggaeton and Latin Trap Music at Progress Bar, Halsted's number one destination for turning up!
$7 Cantaritos, $6 Modelo Especial Michaladas, $4 el Jimador Tequila Shots
Replay Lakeview
We've got DJ FR8-O on the decks this Supersonic Saturday 01/05 at Replay Lakeview! Come hang out with us and enjoy great beer, bourbon, and even challenge one of us to beat you on our arcade games!
$3 Beer Special // $10 Super Power Pitchers
Roscoe's Tavern
Join us FRIDAY 1/4 for RuPaul's Drag Race All Stars 4 with our hosts T Rex and RPDR Super Stars Kameron Michaels and Eureka O'Hara! Doors open at 5PM, New episode begins at 7PM
Stick around for the Meet & Greet at 10PM with performances beginning at 11:30PM! Roscoe's is your home for all things RuPaul's Drag Race!
Lucky Horseshoe Lounge
Tuesday 1/15, next week join us for "Under The Big Top" Dancer Showcase
Over 50 dancers take the stage for one night of circus themed debauchery! Hosted By Tori Sass
Pride Arts Center
The musical of an elf who must leave the North Pole to find a new home after Santa Claus retires has itself found a new home for its fourth annual incarnation. BARNEY THE ELF, Bryan Renaud and Emily Schmidt's LGBTQ-themed musical inspired by the ELF feature film, will be staged in the Broadway theatre of the Pride Arts Center weekend shows through January 6.
The Leigh Gallery
One of our longtime artists, Craig Dresang, just delivered the most amazing original oils- astounding compositions!!! Come by and see them in person!
CBD Kratom
Incorporating CBD into your fitness and recovery plan is FUNDAMENTAL FOR 2019!
Taking your fit resolution seriously requires consistency, hydration, nutrition and, of course, ADEQUATE sleep. Among our herbal remedy selection is a SUPER sleep helper, the Calming Syrup. With the best formula to come out of beeZbeeCBD labs, you'll regulate your sleep cycle in no time!
Increasing muscle recovery from over exertion or injury can be helped with a couple of daily drops of your favorite CBD tincture. Whether its leg day or arm day at the gym, you don't want to be in pain for a week. But we also know that CBD is known to help reduce inflammation and pain in muscles, nerves and joints. You're not alone when you have you, yourself and your plan to be the best you!
We believe in you! You can make a difference in becoming a better, healthier version of yourself. If not fitness wise, mind-wise, too. Anxiety is one of the biggest challenges to face for everyone in this futuristic world. Improving focus with a couple CBD gummies is perfect for those who backslide into seasonal depression. With the difficult task of making it through the cold winds, what better reason to start making better choices with your body and mind!
Allstate Insurance
CRAM Fashion
Trickery Magic Show
Chicago's most entertaining magic show! Affordable, amazing, hilarious, BYOB, intimate, and HIGHLY RECOMMENDED. Thursday – Sunday weekly shows. Reservations recommended.
Playground Theater
January 5 – Come celebrate the New Year by slamming a couple of cold ones and listening to some stand up with the Buzzed Boys! Don't forget it's BYOB! This month's line up: Music by The Knits. Stand up from Sean Parker, Tom Ryan, Deanna Ortiz, Adam Burke
And of course some stupid nonsense throughout the night from the BUZZED fellas. Show starts at 7PM @ 3207 N. Halsted. Tickets are $8 in advance, $10 at the door.
David Jay Collins at Men's Room Chicago
Double Trip Press
Double Trip Press is a premium letterpress studio located in the heart of Chicago's East Lakeview neighborhood. Since the beginning, we have dedicated ourselves not only to the highest quality letterpress printing, but our truly custom design and typography. Our small team of skilled artisans print one color at a time, one print at a time, on vintage printing presses.
From save the dates & full invitation suites to day-of paperie and bindery needs, we work hand-in-hand with clients from concept to finish.