This week head to Boystown for festive St. Patrick's Day shenanigans, register for a Las Vegas weekend giveaway at Lark, RSVP for CRAM Fashion's 10th Anniversary Party, try some vegan Stroganoff Poutine at The Chicago Diner, and get a new spring look at colorLAB.
Don't forget to save these dates: June 22-23 and August 10-11 for Chicago Pride Fest & Northalsted Market Days! Stay tuned for performer line up announcements.
Lark
Sidetrack
Wood
Hydrate
The North End
Kit Kat Lounge & Supper Club
DS Tequila Co
Steamworks
Roscoe's Tavern
Scarlet Bar
Lucky Horseshoe Lounge
Progress Bar
Replay Lakeview
Cell Block
Welcome to ILP, home to the Illinois Leather Titles and the IL Puppy and Handler titles! We plan a weekend of education, fun, and debauchery, so come join us!
Friday Meet & Greet, Saturday doors open 2pm, 9pm contest. Sunday 11am Brunch then at 3pm Zack's Sunday Bunday underwear party.
$5 Bushmill Irish Whiskey all weekend!
Berlin
Playground Theater
Queer Eye: The Musical Parody starting March 14. Follow your favorite Fab Five as they help an Average Joe find his full potential through self-love, comedy, and song!
Pride Arts Center
A musical inspired by a film documentary telling the true story of several transgender friends in rural Georgia. Performances 2/28 – 3/31 at The Broadway Pride Arts Center.
Trickery: The Miracles Show
Chicago's most entertaining magic show! Affordable, amazing, hilarious, BYOB, intimate, and HIGHLY RECOMMENDED. Thursday – Sunday Showtimes. Click above for tickets.
Panino's Pizzeria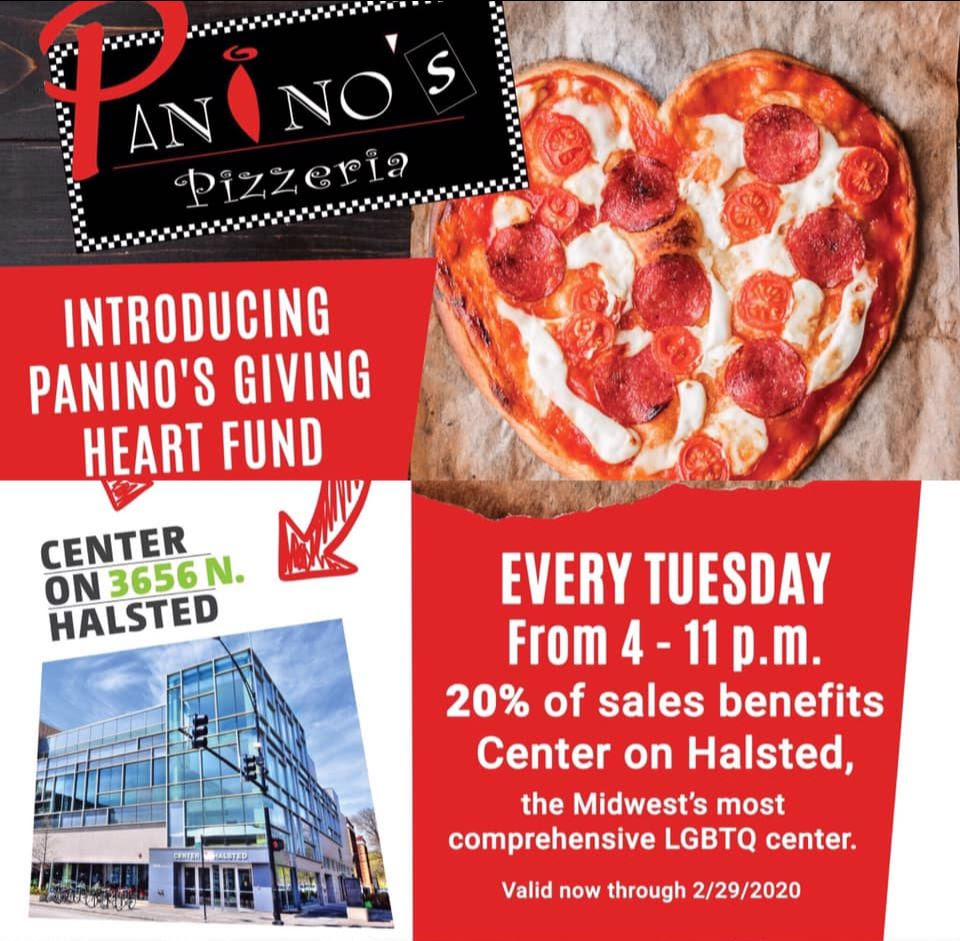 Panino's Giving Heart Fund
️ for Center On Halsted. We're sharing our dough with Center on Halsted by donating 20% of sales every Tuesday through Feb 2020!
Drew's On Halsted
Furious Spoon
A Fast Casual Tokyo Style Ramen Shop
Handmade noodles and sides by Michelin Star Chef Shin Thompson and loud hip-hop music. We chose the name Furious Spoon to educate guests on the culturally proper way to eat ramen– "furiously." You slurp the noodles furiously so that the noodles and the other ingredients do not overcook in the hot broth.
The Chicago Diner
Our specials are expected to change on March 25 so get your Stroganoff Poutine while we have it! Made with hand-cut fries topped with tempeh, mushroom stroganoff, and green onions. Gluten free baby! http://www.veggiediner.com/ChicagoDiner-SeasonalSpecialsMenu.pdf
Fajita Factory
D.S. Fajita Factory is a counter service concept featuring a worldly take on fajitas, a wide selection of empanadas, and a ton of chip dipping options.
Our Latin inspired drink menu includes Chili Mango Margaritas, Basil Watermelon Mojitos and Frozen White Peach Sangrias. Enjoy on our secluded patio!
Casual and quick, open air kitchen. Order, take a number, grab a seat and enjoy. Plus delivery & catering. We present D.S. Fajita Factory, the Hot Mess Express in Boystown, Chicago.
Earth's Kitchen
Have us cater your next event or meeting … Give us a
at (773) 648-6000. We accommodate large to small events. We hope to see you soon
El Mariachi Tequila Bar
Spring is right around corner! Join us for dinner and enjoy our $5 Cantaritos! We hope to see you soon Amigos! #dinelocal #yum#specials #steak #LakeviewEast #Northalsted #wrigleyville Reserve today! #773-549-2932 www.elmariachitequilabar.com
Revolucion Mexican Steakhouse
Anyone in the mood for a Grilled Calamari al Ajillo or Salmon topped with a Roasted Poblano & Mango Chimichurri? #yum #LakeviewEast Reserve today! #773-661-9893 www.revolucionsteakhouse.com
CRAM Fashion
Chicago Male Salon
Open 7 days a week with exceptional service that works for any schedule. Call to book your perfect time today! 773.281.6005
colorLAB
color LAB is a space solely dedicated to learning & perfecting techniques and creating trends & style in hair color. Create gorgeous gleaming healthy hair of any hue at colorLAB!
Ricci Kapricci Salon
Ricci Kapricci is Italian for rich, curly hair that can sometimes be difficult, it symbolizes our daily mission of ensuring our clients' happiness through professionalism, experience, and customer service that's second to none.
Double Trip Press
Double Trip Press is a premium letterpress studio located in the heart of Boystown, dedicated to the highest quality letterpress printing, custom design and typography.
The Leigh Gallery
Robert Koch has painted these wonderful watercolor "sheepscapes" in Door County, WI and all over Ireland! They really set the mood for the upcoming festivities of St. Patrick's Day!!! These paintings really evoke spring, beauty and the thrill of travel!! Click the link for all of the available works we carry by Robert!!
Men's Room Chicago
$15 graphics tee sale! Featuring tees from The Bearded Guy and including many, many more!
David Jay Collins
Boystown LGBTQ author's books featured at Men's Room Chicago. Gaybash set in Boystown and Summerdale horror novel.
CBD Kratom
Have you even tried these CBD infused chocolate creations by Todd Adams yet?? Our current favorite is "Sin Mint"
️
Elevate Coffee
Yefseis cafe has been reborn as Elevate Coffee with an updated look and new coffee experience: cozy atmosphere, cool music, plenty of outlets, super fast wifi and the best house made pastries in town.
Have a seat & lift your spirits at Elevate Coffee (across from Sidetrack).
Allstate